A while back, my sister-in-laws's grandfather passed away. He was a big sports fan, and loved to attend live sporting events. One of the items they found in his house was a big brown suitcase, it was filled with programs, official scorecards, ticket stubs and a bunch of other sports memorabilia.
My brother knew that I collected old magazines and old advertisements, which I used to frame and hang on the wall. I always loved vintage advertising, as a kid I would go into the library and take out magazines and newspapers and look through the ads.
I always felt that ads held a special window into the period. It would show you people's wants and desires. I would compare them to the present day. I would always get a kick when I would see an ad for a product that I used, but was around way back when.
Just for the record, if you enjoy looking at old ads and packaging, you should check out this website, you can start at "food packaging", and make your way down, be prepared to go down a rabbit-hole.
Anyway, my brother told me I should look through them. I went over and I was blown away. There were programs for baseball games, with the accompanying ticket stubs, fight programs, just tons of great stuff.
After a while, I just look up and ask, "Is there any chance I could have a few of these?", I told them they know I would respect them, and never sell them, and my sister-in-law said OK, but I couldn't take them all, as they were still her family's property and she had two brothers that might be interested.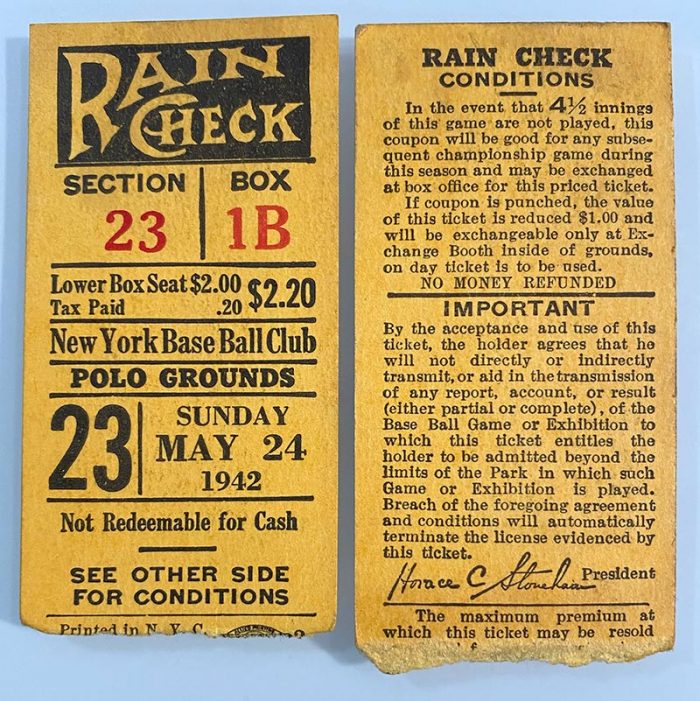 The game was on a Sunday, the standings at the time indicate that Brooklyn was in 1st place, while Giants were in 6th place. You can see the actual line-up and stats here. The scorecard is filled out, indicating he was not just a casual fan.
The Giants got their butts kicked, you can read the next day NY Times article here.
One thing I found fascinating was this little paragraph. We have to remember that this is approximately 6months after the attack on Pearl Harbor, which put the United States at war. Just a fascinating remnant of the times.

I pulled a couple of ads from the program, but you can see the whole thing as a PDF. I find it fascinating to see all the ads, from big products to local services. I even noticed that it said "Harry M. Stevens" on the cover, which I recall from my younger days at MSG watching Rangers games and concerts, that name was blazoned on every paper cup in the place. So take a walk back in time. I'll be posting the other scorecards, and also a boxing program.